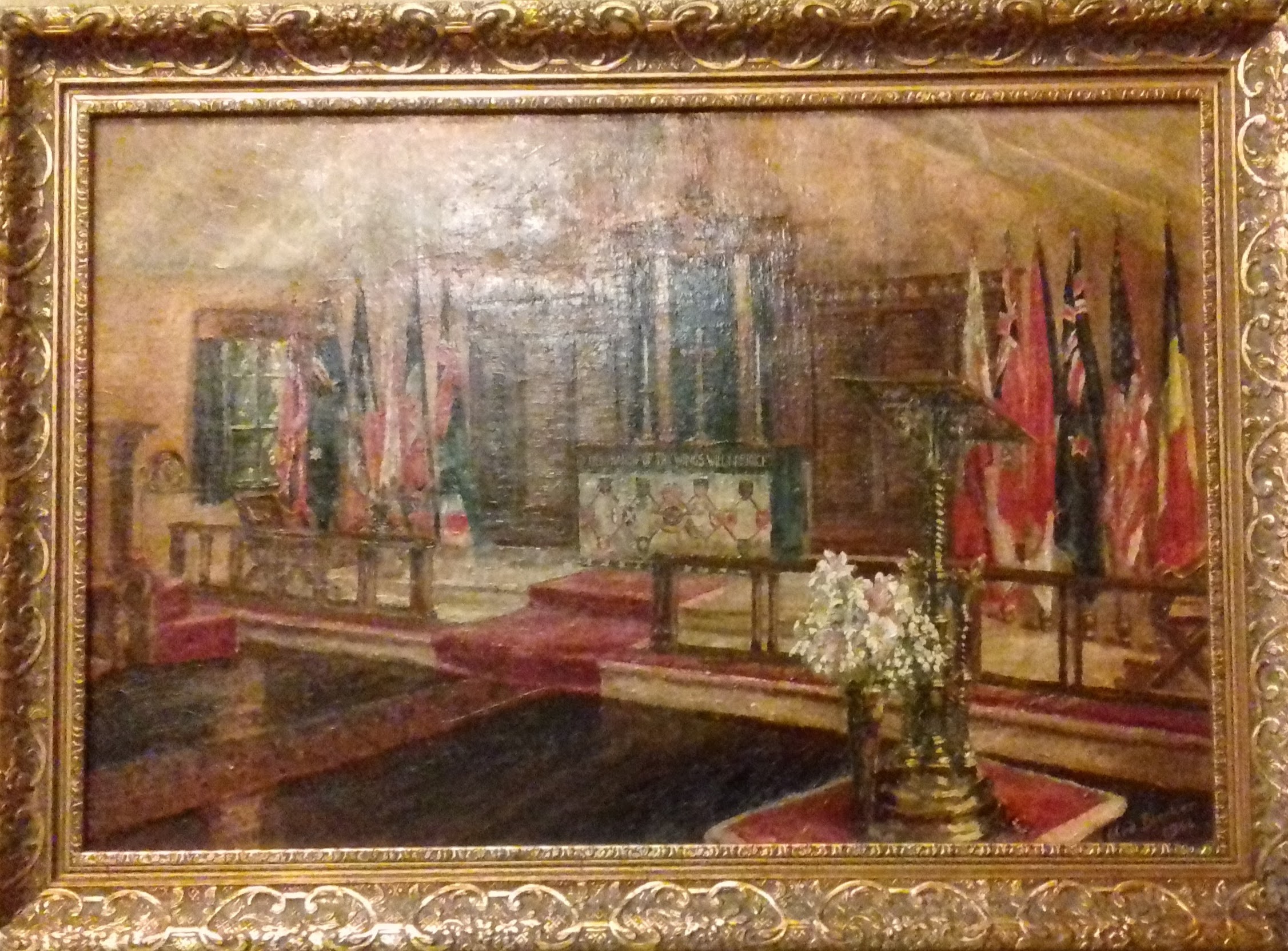 Not all artists can boast of a legacy as historically important as Elva and although not an official War Artist, she used her spare time as a Motor Transport Driver (MTD) in the WAAF at Biggin Hill to sketch and paint hundreds of service personnel and scenes around the area.
I will boast on her behalf about her pilot portraits in a later post but for today, it is one painting in particular that has captured my interest.  Not only is Elva's Altar at St George's Chapel historically important, it also has a few stories of its own fortune and mystery.
Elva herself donated the piece to the original Chapel at Biggin Hill, and I like to think it was a parting gift following her demobilisation.  Regardless of whether she sold or donated it, she later borrowed it back from Biggin Hill to include in a post war exhibition at her home.  This proved to be most fortunate.  While on loan to Elva, the chapel was destroyed by fire and the only thing that survived was a charred visitors book.  Legend has it that the only visitor signature still legible was that of Winston Churchill and if I have understood correctly, Churchill himself instigated plans to rebuild the chapel.  On its completion, Elva returned the painting to them.
The story however does not end there.  Some thirty years later, it was discovered that the reverse side of the canvas revealed an abandoned portrait of three pilots.  In October 1975, an article in London newspaper, The Evening Standard instigated a hunt for the Artist and by December that year, Elva was back at Biggin Hill examining the painting.  Sadly, she was unable to identify the three men but explained that often, she was unable to finish portraits because the subjects didn't always return form their missions.
I previously had no knowledge of this painting and owe sincere gratitude to Biggin Hill Memorial Museum for bringing it to my attention.  A new museum is currently being built around The Chapel and visitors (including me) will be able to view it for them selves once it is open.
Thank you https://bhmm.org.uk/ for this great photograph.  I cannot wait to see the real thing.